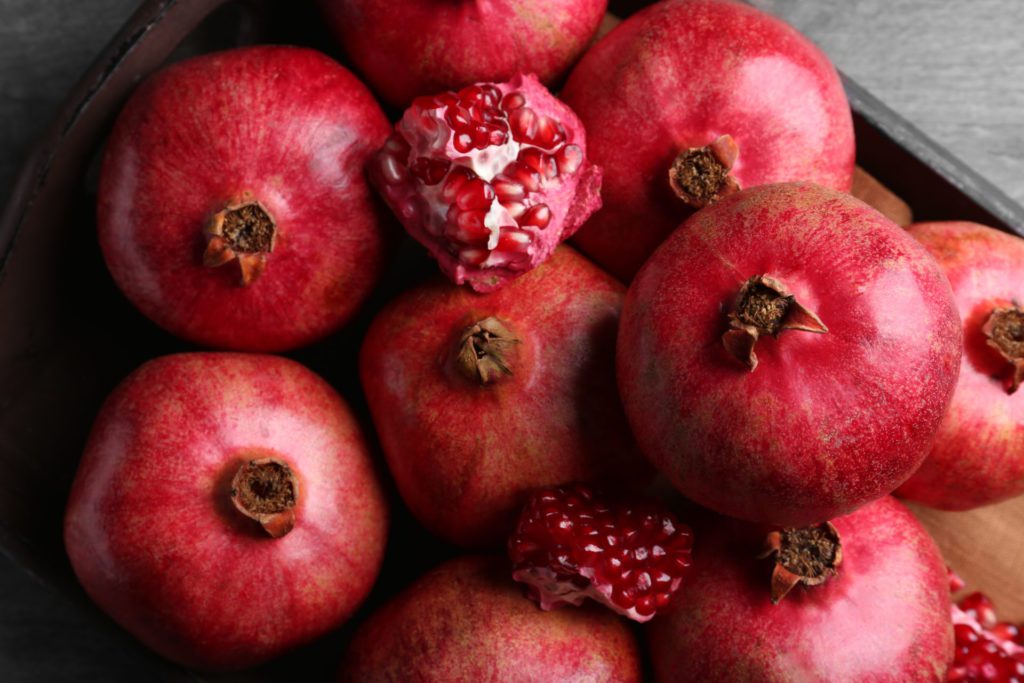 One of my earliest memories of pomegranate, around the age of 4, is of playing on a swing and eating the seeds when they had fallen from the bush in our garden. I can still recall the fresh juicy sensation of the seeds popping in my mouth.
And today, pomegranates are back in my life and in my fruit bowl. Pomegranate juice is also readily available in supermarkets, but make sure to avoid the juices with added sugar.
So. What is the power of pomegranate? Why are they so beneficial and considered a superfood in our diet?
The Punica Granatum or pomegranate, contains edible seeds called arils, which are high in fibre, vitamins C, K and folate, potassium and bioactive plant compounds such as flavonoids, polyphenols and ellagitannins.
The 2 main compounds are:
Punicalagins – an extremely potent antioxidant
Punicic Acid – a type of conjugated fatty acid, found in the seeds, which has potent biological effects including hormonal balance.
Another amazing observation about pomegranates, is that if you look carefully, you will see that the fruit has a slight resemblance to the organs that it benefits – the womb, the brain and the heart, with the wonderful red juice that flows into our veins and heals our body.
Therapeutic Benefits:
1)    Contain phytoestrogens, which can mimic estrogen activity and therefore have a positive effect on menopausal symptoms such as hot flushes
2)    Anti-inflammatory benefits by blocking the activation of inflammatory pathways
3)    Prevents cardiovascular disease by interfering with the mechanisms of atherosclerosis
4)    Helps to prevent cancer with anti-metastatic properties, as well as causing cell death or apoptosis in cancer cells – particularly in prostate and breast cancer.
5)    Improves blood sugar control to prevent diabetes by increasing insulin sensitivity
6)    Increases levels of the good cholesterol (HDL) in your blood
7)    Improves hyper-tension / high blood pressure by blocking angiotensin converting enzyme (ACE) and improving blood vessel dilation
8)    Has potent anti-microbial properties shown in studies with E.coli and S.aureus bacteria
9)    The high fibre content helps to support our microbiome and feeds the good bacteria in our gut, minimising irritable bowel issues
10) The slightly bitter taste is also beneficial to liver function by stimulating bile production and reducing oxidative stress
How to open a pomegranate:
'De-seeding a pomegranate is too messy' I hear you say!  Well, it's not really that hard, and the reward afterwards is definitely worth it.
Pomegranate grows in 5 compartments, seen as ridges on the outside.
Take a sharp knife and cut off the very top (lid) of the pomegranate, then score down each of the ridges (cutting only the skin) – et voila – you can break it open, remove the pith, and gently pull the seeds out into a bowl.
Here is a handy video, if it's not clear:
https://www.youtube.com/watch?v=dXD-0Ng1aSo
How to eat pomegranate:
The best way to enjoy pomegranate is sprinkled on cereal or porridge for breakfast, eating as a fruit snack anytime of the day, including in a leafy or grain salad, or cooking it with lamb to add sweetness and flavour.
See my favourite recipe below and enjoy all the wonderful health benefits of this beautiful fruit.
RECIPE
Baked Butternut squash with Feta, Pistachios and Pomegranate seeds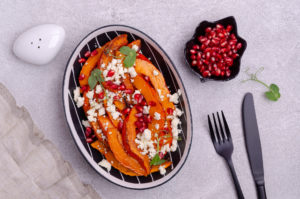 Ingredients:
1 large butternut squash, cut into wedges (skin-on) and seeds removed
4 tbsp olive oil
sea salt and freshly ground black pepper
150g/5½oz feta
100g/3½oz pomegranate

 

seeds
50g pistachio nuts (peeled)
1 tbsp pomegranate molasses
Method:
Preheat the oven to 200C/400F/Gas 6 and line a baking tray with baking parchment.
For the butternut squash, rub each wedge of butternut squash with oil and season generously with sea salt and black pepper. Place on the lined baking tray.
Roast the squash for about 40-45 minutes, just until the edges have begun to brown slightly (you want to crisp the edges a little to give them a nice chewy texture). Check the squash is cooked by inserting a knife – if it slides in easily the squash is cooked.
To serve, serve the butternut squash on plates, drizzled generously with the molasses. Crumble your feta over the top and scatter some pistachio and pomegranate seeds over to finish.